Defenture is a reliable partner, working closely together with strategic technological, financial and operational partners. Our cooperative and collaborative approach enables us to develop, deliver and maintain outstanding mobilty solutions. With the end user always on top of our mind. Rigorous and thorough testing is part of every project we complete, ensuring that each design meets specific military standards. Our expertise & leading technologies makes us a valuable partner.
Krauss-Maffei Wegmann and Defenture, the Dutch manufacturer of special-purpose vehicles, intend to enter into close strategic cooperation.
Press Release, Munich / Tiel, 16 September 2021: Krauss-Maffei Wegmann (KMW), the German systems supplier for battle tanks and combat systems, and Defenture, the Dutch manufacturer of special-purpose vehicles, intend to enter into close strategic cooperation. A letter of intent (LoI) has already been signed by both companies.
The background is the German Ministry of Defence's plan to procure new airborne platforms to replace the vehicles of the airborne troops, some of which are more than 20 years old. The basis of the envisaged vehicle family is Defenture's VECTOR, which has already been introduced in the Netherlands and has proven itself in operations. For the airborne platform project, this vehicle basis will be adapted to the new requirements.
IntegratedPartner of Volkswagen Commercial Vehicles
We are pleased to announce that Defenture has been appointed the "IntegratedPartner" status of Volkswagen Commercial Vehicles.
IntegratedPartners meet demanding engineering and quality control standards and requirements. We have been audited to VW's high standards of quality and have been successfully approved. Defenture BV has been certified as an IntegratedPartner and has demonstrated outstanding technical expertise and experience in the conversion of Volkswagen Commercial Vehicles. Regular training courses ensure that its staff are familiar with the latest technical developments at all times.
We are proud Defenture has been recognised as Integrated Partner of Volkswagen Commercial Vehicles. Honoured for trusting Defenture as light air transportable tactical vehicle specialist.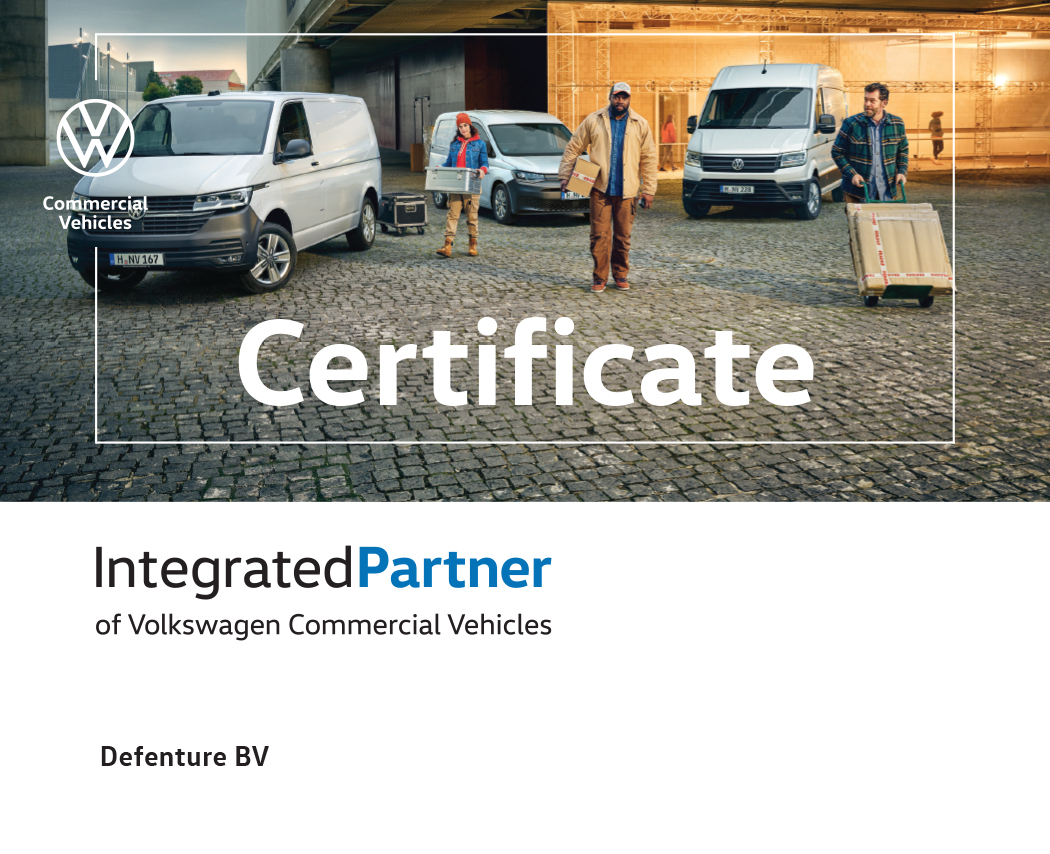 Defenture's partner W-tec has enormous knowledge and experience that the Winkelhuis brothers have historically built up with their father in this firm. Designing a chassis with 4-wheel steering that meets the mobility requirements for military use is "business as usual" for W-tec. The specific requirement to integrate a diesel engine with an automatic transmission in a quad with a limited weight was grasped by W-tec with both hands, to demonstrate what is technically capable through this partnership in the Netherlands. To realise the military diesel quad, W-tec will develop a special automatic gearbox based on existing automotive products. Defenture and W-tec have combined their skills and expertise to create the best possible mobility solution for the client.